Vacuum tube collector SPA-58/1800-15
---
${ $store.getters.currentItemVariation.variation.availability.names.name }
---
Vacuum tube collector SPA-58/1800-15
Gross area:2,57m²
B/H:1296mm / 1983 mm
Manufacturer: Jiangsu Sunpower Solar Technology
---
15 Borosilicate glass vacuum tubes
Length of the vacuum tube:
1800 mm
Outer diameter:
58 mm
Each vacuum tube is coated 3 times (see drawing)
Copper connections on collector
22 mm
Water-glycol content in the collector
approx. 1.5 litres
collector housing
made of weather-resistant aluminium
Immersion sleeve for temperature sensor
available at every collector in the collector
anti-hail device
up to 25 mm at 30m/s
Max. permissible operating pressure
8 bar
operating pressure
6 bar
max. stagnation temperature
210 °C
(Information from the Intertek report)
GZ 11121720-1
Solar Keymark
SP SC1075-12
---
Functionality of the vacuum tubes: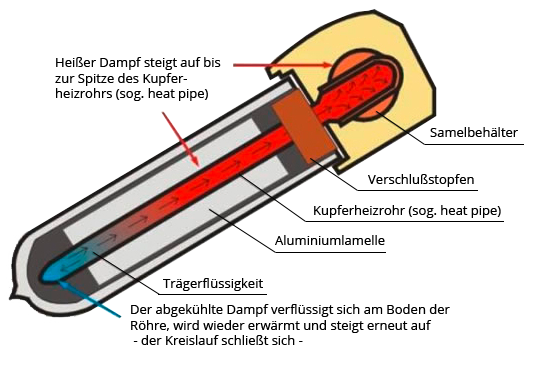 The vacuum tube consists of two glass tubes with different diameters. This is a special glass made from borosilicate. Between the glass tubes there is a vacuum which is necessary to insulate the inner tube (the so-called "heat pipe principle"). In the inner tube there is a copper tube, which in turn is filled with a special liquid that absorbs heat.
The heat of the sun's rays heats the liquid and rises as hot steam to the tip of the copper heating tube. The heat generated in this way is then released in the collector and used to heat the hot water. The collector itself is made of aluminium and is insulated inside with rock wool at high temperatures, so there is hardly any loss of energy. Each vacuum tube is individually connected to the collector as a dry connection. This means that the pipes can be replaced individually without having to drain the liquid out of the system.
Difference between our solar system with ALN/SS/CU coating, systems with AL/N/AL coating and flat collectors.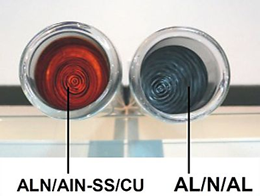 ALN/AIN-SS/CU- 360° degree copper plating inside the tube
AL/N/AL- 360° aluminium coating inside the tube
Choose one of the best value for money systems available on the market.