Solar cable 2xDN16, 15 m stainless steel corrugated pipe with 5mm aerogel insulation
---
${ $store.getters.currentItemVariation.variation.availability.names.name }
---
DN16 solar pipe, solar pipe, stainless steel corrugated pipe, 5 mm aerogel insulation, cut to size - 15 meters
---
aerogel insulation
THE EVOLUTION OF SOLAR ENERGY
Double solar pipe with nanotechnological insulation, made of corrugated stainless steel SISI 316L DN16
Each pipe is covered with a 5 mm thick aerogel consisting of a high efficiency insulating dam layer (ʎ = 0.014 W/(mK)) wrapped with a 2 mm pitch nylon cord that keeps the layer compact and can be cut with simple site tools without fraying.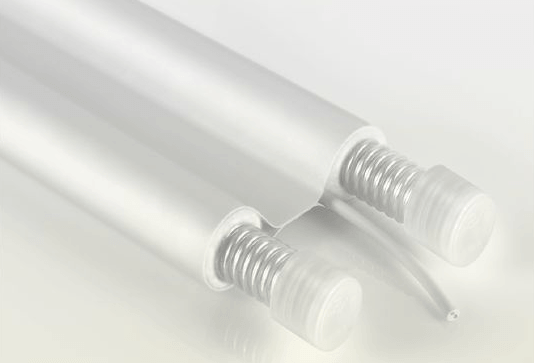 The doubled pipes are covered with a PVC sheath with fabric inlay (Euro class BS1D0), available in different colours and which protects the insulation against aggressive weather conditions, insects, rodents and birds (pick protection).
The sheath encloses the temperature sensor cable via two connecting straps and unites the two duplicated tubes in such a way that a compact, flexible and resistant unit with a long service life and high insulating capacity is created.
A comparison with other double solar tubes currently available on the market shows clear advantages, since nanotechnology has undoubtedly made it possible to develop better materials in terms of service life and reduced dimensions.
Aerogel SYSTEM
ISOLIERMATERIAL AEROGEL 5 mm, TUBE AISI 316L
Coating colour: Grey
Corrugated stainless steel pipe AISI 316L DN16
Outside 21,6 mm
Inside 16 mm
The insulating strength of AEROGEL allowed it to bewhich can come up with the absolute least thickness:
5 mm that make all the difference.
The insulating material aerogel forms an effective barrier both against the cold emanating from a thick ice sheet and against the strong heat of a flame. The photos show the two applications at extreme temperatures to demonstrate the true insulating properties of the nanotechnological material in contact with sensitive human body parts.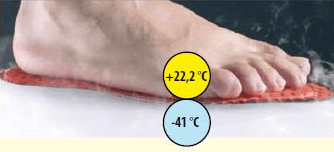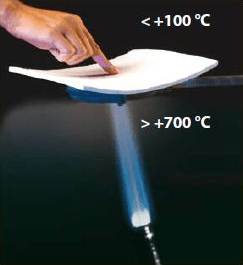 ---
Aerogel - double tube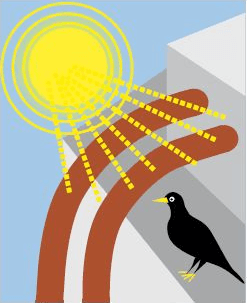 Flexible, thermally insulated double tube for solar applications for high temperatures up to +200°C
LONG-LASTING RESISTANCE
MANUFACTURED FROM NANOTECHNOLOGICAL MATERIALS, RESISTANT TO WEATHERING AND PRESSURE, NANOSUN2 IS THE ONLY SYSTEM OF ITS KIND THAT CAN GUARANTEE A LONG SERVICE LIFE.

COMPOSITION
pipe end protection
Corrugated STAINLESS STEEL TUBE AISI 316L
APPEARANCE AND FEATURES
PVC HOSE with fabric insert compact and flexible (Euroclass B S1 D0), thickness 1mm Protects the insulation against aggressive weather influences, UV rays, invulnerable to insects, rodents and birds (pick protection). Pressure and heat resistant: does not change its dimensions.
Standard colors: gray.
Aerogel insulation can be installed in the subfloor, in contrast to conventional products, which do not allow such use due to their thickness.
It also retains its insulating properties when compressed.
SUPERIOR INSULATION PROPERTIES
ISOLATION MATERIAL AEROGLES THAT DEVELOP A 5 mm THICKNESS OF 5 mm THAT IS DEVELOPING AN ISOLATING CAPABILITY BETWEEN THE COMMON PRODUCTS.
Thermal conductivity: ʎ=0.014
Aerogel insulation material is water-repellent, flexible, adaptable and lightweight.
Easy to transport and handy on the construction site.
SAVINGS AND ACCESSORIES at the aerogel insulation
The heat-welded lugs of the two tubes are designed in such a way that they can be separated from each other with a simple cutter cut. The bracket of each pipe allows easy installation in confined spaces using screws or nails as an alternative to pipe clamps. The marking of the product with the characteristic data is another advantage of the manufacturing quality and especially in the application of aerogel insulation: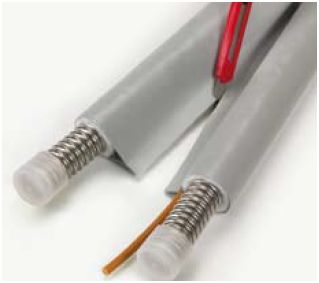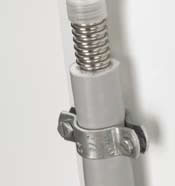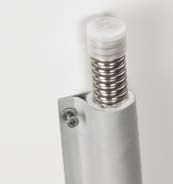 Simple installation using screws and washers or pipe clamps.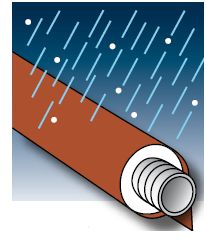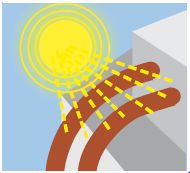 WEATHERPROOF
The robust, flexible and non-deformable cover guarantees a long service life for your solar system.
UV-RAY-RESISTANT
Tread-proof underfloor installation
PICKS PROTECTION
Protection from birds, insects and rodents.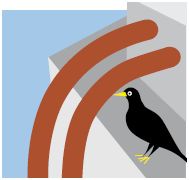 TECHNICAL FEATURES


DOUBLE PIPE:
Operating temperature limit Insulation material Aerogel
Temperature max: +200° C
Temperature min:-200° C
Thermal conductivity: ʎ=W/(m K)
Directive EN ISO 8497
at 40° C = 0,014
at 60° C = 0.016
at 100°C = 0.018
at 150°C= 0.023
Fire Reaction: Material Class
Protective sheath: Euro class BS1D0
Insulation: Euro class CS1D0
Scope of delivery: 15 double meters