Workshop trolley "Blue Night" with 7 drawers incl. tools
---
${ $store.getters.currentItemVariation.variation.availability.names.name }
---
Tool trolley "Blue Night" with 7 drawers incl. tools (333 pieces + 1 filled drawer FREE of charge)
Colour: blue / black heavy-duty and scratch-resistant powder coating
Material of the car: Premium quality made of cold-rolled steel with a thickness of 0.8 mm (Attention: Many competitors rely on economy versions with a thickness of only 0.5 mm!)
Dimensions (width, depth, height incl. castors): 780 x 465 x 970 mm
7 drawers with a max. load of up to 40 kg per drawer
Tool made of best chrome vanadium steel
High-quality tool inserts made of flexible foam material
5 small drawers (550 x 400 x 75 mm)
1 middle drawer (550 x 400 x 135 mm)
1 large drawer (550 x 400 x 154 mm)
all drawers lockable
2 x keys incl.
neat push handle /with strong holding bar Ø 30 mm
4x ball bearing castors with rubberized coating, Ø of the castor 125 mm, (1 castor with parking brake, 360° swivelling, thus easily steerable)
Weight of tool trolley without contents 74.5 kg
Total weight including tool 78.5 kg
---
Tool made of chrome vanadium steel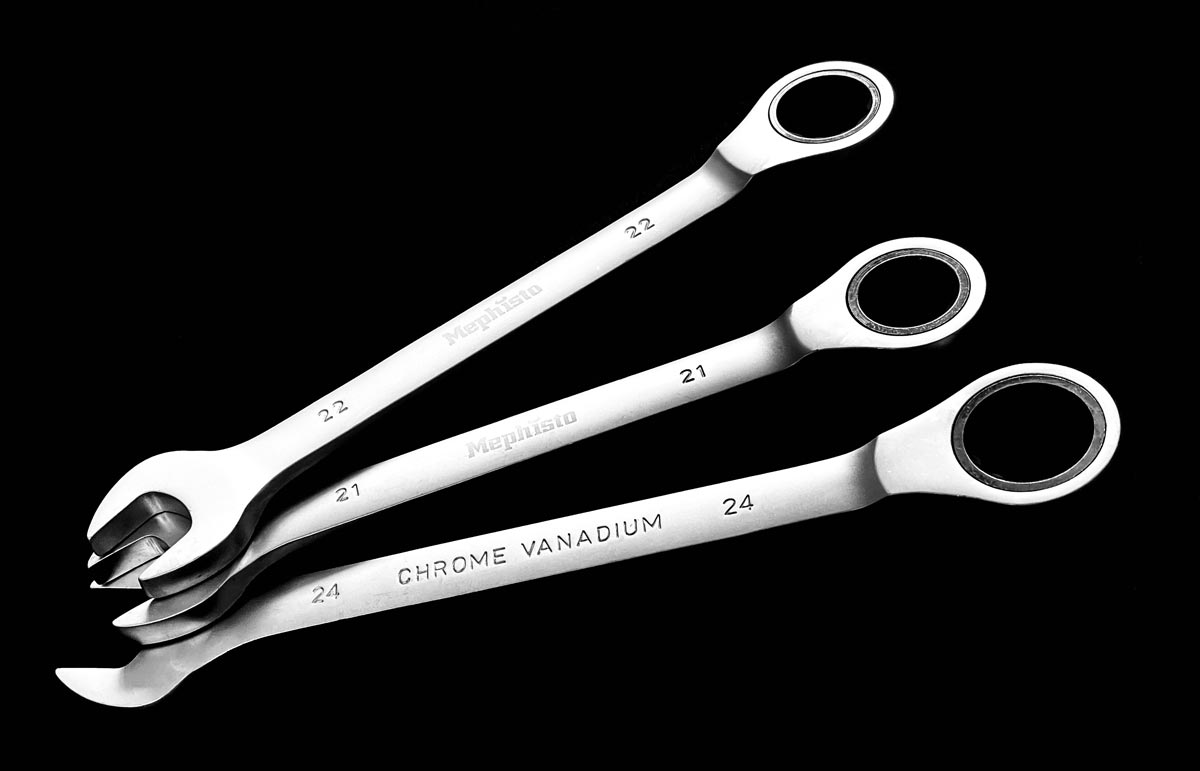 A feature that makes our tool trolley an absolute top product in terms of value for money is the use of chrome vanadium steel for our tools. It should be noted that a number of the cheaper or equally priced or even more expensive tool trolleys are not chrome vanadium steel. Often the tool used here is the much more favorable and also in its properties, much worse variant with unalloyed steel / carbon steel.
---
Content:
1st drawer:
13 x 1/4" Nuts: 4-4.5-5-5.5-6-7-8-9-10-11-12-13-14 mm

5 x 1/4" Hexagon outboard bits E4-E5-E6-E7-E8

1 x 1/4" Extension 2"

1 x 1/4" Extension 4"

1 x 1/4" T-piece

1 x 1/4" universal joint

1 x 1/4" connecting piece for bits

1/4" bit screwdriver

1/4" Ratchet fine serrated with 72 teeth/ 5 °

17 x 3/8" Nuts 6-7-8-9-10-11-12-13-14-15-16-17-18-19-20-21-22 mm

7 x 3/8" hexagon socket bits E10-E11-E12-E14-E14-E16-E18-E20

1 x 3/8" Extension 3"

1 x 3/8" extension 6"

1 x 3/8" T-piece

1 x 3/8" universal joint

3/8" spark plug socket 16 & 21mm

3/8" Ratchet fine serrated with 72 teeth/ 5 °

21 x 1/2" Nuts 8-10-11-12-13-14-15-16-17-18-19-20-21-22-23-24-26-27-28-30-32 mm

1 x 1/2" extension 5"

1 x 1/2" extension 10"

1 x 1/2" T-piece

1 x 1/2" universal joint

1 x 1/2" connector for bits

16 x 25mm Screwdriver Bits T8-T9-T10-T15-T15-T20-T25-T27-T30-T40,TT20-TT25-TT30-TT40-TT40-TT45-TT50-TT55

6 x 75mm Screwdriver Bits T20-T25-T30-T40-T45-T50
---
Second drawer:
9 x 1/4" long nuts 5-6-7-8-9-10-11-12-13 mm

9 x Allen key 1.5-2-2.5-3-4-5-6-8-10 mm

23 x 1/4" bits SL4-SL5.5-SL7;PH1-PH2-PH3;PZ1-PZ2-PZ3;H3-H4-H5-H6-H7-H8;T8-T10-T15-T20-T20-T25-T27-T30-T40

3 x 1/2" Bits T50*100L,T60*55L,T70*55L

13 x Allen key T8-T10-T15-T15-T20-T25-T27-T30-T40-T45-T45-T50-T55-T55-T60-T70

8 x screwdriver SL6*38,SL4*100,SL5*100,SL6*150,PH2*38,PH1*100,PH2*100,PH2*150
---
Third drawer:
17 x open-end ring spanner 6-7-8-9-10-11-12-13-14-15-16-17-18-19-20-21-22mm

8 x Ring spanner 6*7,8*9,10*11,12*13,14*15,16*17,18*19,20*22mm

7 x precision screwdriver 1.8*50,2.0*50,2.5*50,3.0*50;PH0*50,PH00*50,PH000*50

6 x electrician screwdriver SL3*75,SL4*100,SL5.5*125,SL6.5*150,PH1*100,PH2*100

Hexagon socket wrench T9-T10-T15-T20-T20-T25-T27-T30-T40
---
Fourth drawer:
1 x 8" combination pliers

1 x 8" pointed pliers

1 x 7.5" silk cutter

4 x 6" snap ring pliers

1 x 1/4" connecting piece for bits

1 x 3/8" connector for bits

1 x 1/2" connector for bits

1 x bit holder

1 x extension for bits

50 x 25mm bits SL3-SL4-SL4-SL4-SL5-SL5-SL6-SL6-SL7;PH0-PH1-PH1-PH1-PH2-PH2-PH2-PH3-PH3;PZ0-PZ1-PZ1-PZ1-PZ1-PZ2-PZ2-PZ2-PZ3-PZ3-PZ3;T10-T15-T20-T25-T25-T27-T30-T40;TT10-TT15-TT20-TT25-TT27-TT27-TT30-TT40;H2-H3-H4-H5-H6;S0-S1-S2-S3

17 x 50mm SL3-SL4-SL5-SL6-SL7;PH1-PH2-PH3;PZ1-PZ2-PZ3;H3-H4-H5-H6;T15-T20

19 x 30mm H4-H5-H6-H7-H7-H8-H10-H12;T20-T25-T30-T40-T40-T45-T50-T55;M5-M6-M8-M10-M12

19 x 75mm H4-H5-H6-H7-H7-H8-H10-H12;T20-T25-T30-T40-T40-T45-T50-T55;M5-M6-M8-M10-M12
---
Fifth drawer:
8" Wire stripper

93 x nails

stapler

500 x tacker needles

5m measuring tape

handsaw

4 x precision screwdriver

spirit level