Freestanding bathtub mineral cast KKR-B034
---
${ $store.getters.currentItemVariation.variation.availability.names.name }
---
For your new luxury bath you can now freely choose your favourite place. Whether standing at the window or in the middle of the room, our high-quality artificial stone bathtubs with their perfect design will give you a completely new relaxing and soothing bathing pleasure!
The innovative surface guarantees a long service life with a consistently beautiful appearance! Our shiny bathtubs and washbasins, thanks to the material properties and the special polishing technique, have a lotus effect. The dirt does not stick - it is rinsed off with the water.
Our cast mineral bathtubs are mainly made of a composite mixture of natural mineral materials that allow them to be shaped. Due to this material composition, this product is colourfast, very resilient, break-proof and has a very pleasant warm and silky surface property. The mixture of nature and technology combines the advantages of high heat retention of the stone for a long bathing pleasure as well as the easy cleaning of the product.
The flawless workmanship and the high-quality material, in a top price-performance ratio, make this tub an eye-catcher in every bathroom. Turn your bathroom into an oasis of well-being and relaxation!
Features & Benefits
Good thermal insulation: Due to the low thermal diffusivity of the mineral cast bathtubs, the water temperature lasts longer than with conventional bathtubs.
You have a very pleasant surface feel.
Cast mineral bathtubs can be easy to clean and even prevent mould growthThe smooth surfaces hardly allow dirt and water to adhere.
The bathtub design includes all cables integrated (no visible hoses, etc.).
You are easy to repair by regrinding for small damages and scratches.
Due to its own weight, the tub is very stable and does not have to be bolted for assembly. If required, the tub can also be fixed with silicone.
Timeless design guarantees long lasting pleasure.
Completely identical throughouthigh-quality mineral casting, not just a thin coating! This means that even slight flaking would not be immediately visible or can easily be sanded out!
equipment features
Very high quality workmanship
Lotus effect (with glossy finish)
Integrated drain set with pop-up closure - chrome-plated (PUSH Open technology)
Dimensions (mm)
approx. 179.5 x 84.5 x 64 cm (L/W/H)
Filling quantity: approx. 345 litres
Weight: approx. 150 kg - solid design
Material & Colour
cast stone / composite stone / mineral casting
White - surface glossy or matt
Scope of delivery
artificial stone bath
Incl. drain set
Incl. siphon/odour seal
Incl. push-up open closure
Without fittings
For optimum protection of the tub, it is shipped with a sturdy cardboard wooden construction!
The care instructions for our KKR products can be found in the download area. click here.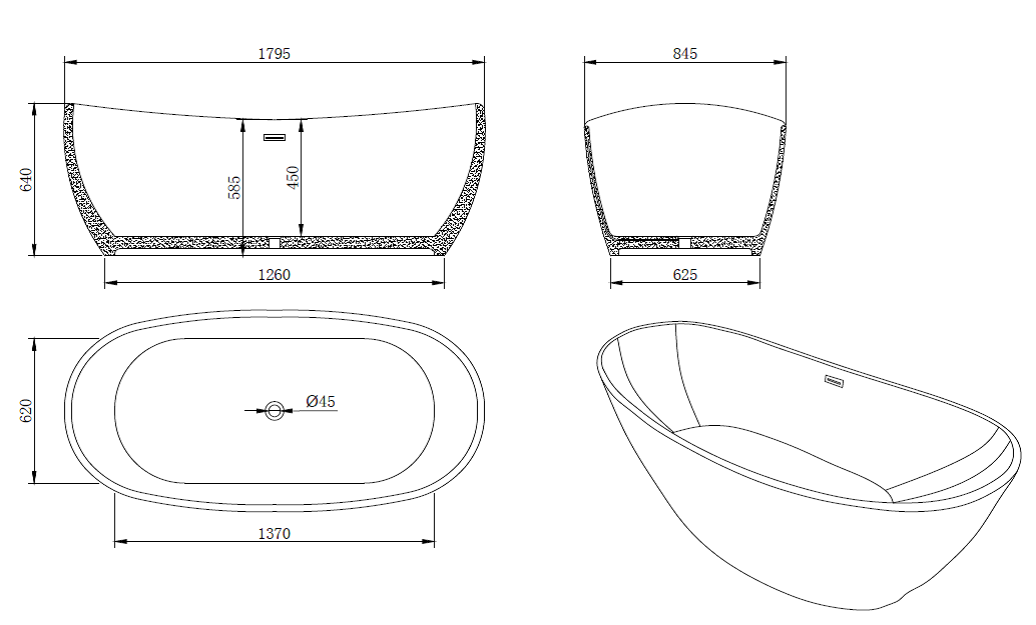 The drawings are not true-to-scale representations of the products. Production and product-dependent tolerances are possible. Indication of dimensions in millimetres.